Backstory
In 2015 I was bit by the Land Cruiser bug. Having "just" my 2011 Toyota Tacoma to play in, and it being a somewhat expensive vehicle to damage offroad, I decided a second rig was in order. While Land Cruisers are legendary for their reliability, the 80 Series is perhaps the pinnacle of Toyota's offroad engineering efforts. Overbuilt in virtually every aspect, sporting a solid front axle with birfields, and a full-floater rear axle, they are extremely tough and capable. In my opinion, the combination of capabilities, reliability, and comfort in the 80 Series is simply hard to beat at any price point. I quickly found a 1993 Triple-locked FZJ80 with 234k miles and all the goodies already installed. I went ahead and bought the rig, and the seller has since become a friend of mine, that will become an important fact later in the story.
After getting the rig home, driving it for a while, performing significant maintenance and upgrades on it, I decided that keeping the Tacoma was a bit foolhardy because it just sat in the driveway while I drove the 80 all the time. Luckily, we were also looking at ditching our Acura MDX and in the end, traded the Tacoma towards a nice T4R Limited. Win!
As I drove the 80 more and more, and how much I loved the vehicle became clearer to me, an opportunity arose. My Land Cruiser crack dealer, the friend I referred to earlier in the story who sold me the 1993, let it be known he may be willing to part ways with a 1997 with only 112k on it. Seriously, 112k miles? After thinking for all of about 30 seconds, then spending days making sure I was making a good choice, I bought it. The intent was to start with a totally clean slate, low mileage, and well cared for rig, and make it something special. Ultimately, once the 1997 was complete, the 1993 would be sold and go to a good home where it would get the use it deserved. And so the project began…
Scope of Project
As I said, the idea of working with a clean slate was very appealing. Regardless of the quality of work done on a rig before you buy it, you still may never know all that was done to it or the true quality of work and parts. I am a big fan of OEM parts, and I like to only do things once, and the "correct" way. So, based on this, I developed some project goals as follows:
Reliability – The first order of business on a 20-year-old truck, regardless of the low mileage, is to baseline it. Fluids, belts, hoses, filters, mechanical, etc., all of it needs to be gone through and likely changed before true reliability can be achieved.
Performance – While many builds occur in multiple distinct phases, this one was far simpler. I knew that 37" tires were my goal, so whatever that took, needed to be done. This was to be DD capable, yet handle any use I could throw at it off-road. I am not a person that just adds 37's to the mix and hopes for the best. Axles, gears, suspension, and a variety of other modifications and upgrades must be considered and applied to achieve a reliable and driveable vehicle. This is no trailer queen so driving the interstate for hours on end, towing a trailer, and overall comfort are key factors and add great time and expense over a simple off-road build.
Budget – Well, considering items #1 and #2 above, you must be realistic. Sure, OEM parts are readily available, but they aren't cheap. And really, it's a Land Cruiser, parts were never cheap, especially 20 years later. Some parts are simply not available new so used or substitute parts must be sourced. In the end, setting a budget was easy, spend what needed to be spent to achieve items #1 and #2 above. Each part or bit of work was evaluated for cost, purpose, and ultimately priority. I spent what I believed was needed to achieve my goals because in the end, if I failed to achieve either of them, then the project would be a failure in my eyes. If I wasn't willing to commit to what legitimately needed to be done, why even bother at all?
Base Rig
1997 Toyota Land Cruiser FZJ80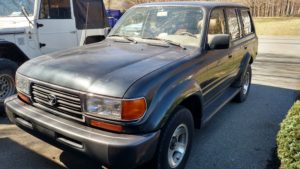 Key features of this rig:
Only 112k miles when bought (versus most @ 200k or more)
Virtually rust-free
No factory rack (prone to rust @ mounts)
Interior was in above-average condition
Mechanically sound, maintenance appeared good, and no glaring issues
It's green, hence the name "Project Evergreen"
The Build Plan
Moving forward, and committing to do what it took to meet the project goals, I started putting the specifics together. There is a LOT of detail in the following write-up so while some may simply want to skip ahead t the results, I hope others find knowledge and inspiration in the details, because I have fielded a ton of questions around my build and here is where I hope to benefit the Land Cruiser and off-road community the most, with details and explanations on why I did what I did. Google-Fu being what it is, actual knowledge is pretty hard to come by. There simply aren't that many detailed write-ups on this platform when going past the popular 35" tire FZJ80 build and moving to the world of 37" tires. It is different, and to know that up front is key to delivering a successful result.
Planning & Labor Resources
RnR Auto – All good intentions aside, I had to be realistic. While I was capable of doing a large amount of the required work myself, time is simply the largest factor. Couple that with not having a garage or other climate-controlled area to work in, I knew I needed help. Enter Rick Collins at RnR Auto in Pasadena, MD. To say Rick was invaluable would be doing him a disservice. He is the first and foremost reason this project got done, and was so successful. His knowledge, and mechanical skill made this project go as well as one could hope to expect. While not traditionally a Land Cruiser guy, he learned along the way, and with my providing information, guidance, and just generally being a pain in the ass, he made it happen. Kudos to him taking on a project that aside from previous work he did on my 1993 FZJ80, was pretty much an unknown quantity when we started. Skipping right to the end result, the rig drives like a dream and has handled the trails I have thrown at it with ease, no small achievement, particularly given the VERY large scope of work!
Build Specifics
Suspension & Steering
Autocraft Slinky Long Travel Suspension with Icon Stage 1 Shocks
Metal Tech Rear Upper and Lower HD Control Arms
Slee Rear Coil 1" Spacer
Slee Front and Rear 2" Bump Stop Extenders
Ironman Front & Rear Panhard Bars
Slee HD Tie-Rod & Drag Link
FJ80 Front Sway Bar with new OEM bushings
Wit's End Front Axle Caster Plates
Wit's End Front and Rear Sway Bar Extensions
Roger Brown 1" Body Lift – Ultimate Kit
Old Man Emu HD Steering Stabilizer
OEM Front Control Arm Bushing Set
Drivetrain
Revolution 5.29 Gears from RnR Auto
Harrop E-Lockers from Forge Specialties
Nitro Front and Rear Chromoly Axle Shafts
Toyo 37×13.50r17 Open Country M/T's
SCS F5 17×9 Wheels (3.5″ BS) in Bronze
Terrain Tamer Rotors & Brake Pads from Land Cruiser Parts & Specialties
Slee Offroad Extended Stainless Steel Brake Lines
Wit's End Tacoma Modified Front Double-Cardan Driveshaft
Armor, Cargo, & Recovery
ARB Front Bumper
Iron Pig Offroad Rear Bumper with Tire Carrier
Iron Pig Offroad Skid Plate & Crossmember
Metal Tech Rock Sliders
Engo SR12s 12k Winch
Prinsu Roof Rack
ARB Outback Rear Drawer Roller & Storage System
Electronics
Switch-Pros SP8100 8-Switch Panel Power System
Cobra 75 CB Radio
Midland Micromobile MXT115 2-Way Radio
Various Blue Sea Systems Components
Joying 7 2GB 32GB Android 6.0 Head Unit
Enhanced ELM327 Bluetooth OBDII Adapter
Torque Pro Software for Android
Metra 70-8112 Stereo Adapter (70-1761 if not using factory amplifier)
Polk DB Series Speakers
Dometic CF110 Refrigerator
Slee Headlight Harness Upgrade
Philips 9012 HIR Low Beams
Philips 9011 HIR High Beams
Depo LED Smoke Taillights
Misc Items
Amsoil Gear Oil, Transmission Fluid, Brake Fluid, Bearing Grease, & Birfield Grease
Shell Rotella T6 Engine Oil
Terrain Tamer Front Axle Rebuild Kit
Wit's End Toyota "Blue" High-Temperature Fan Clutch
Derale Power Steering Cooler
Gates Charcoal Canister
Wit's End Radiator Hose, Rear Heater Bypass, & Clamp Kit
Wit's End Knuckle Stud Kit
Hopkins 11143405 Plug-In Simple Vehicle Wiring Kit
OEM Rear Axle Rebuild Parts from Land Cruiser Parts & Specialties
OEM parts used whenever possible for baselining and general maintenance items sourced from Land Cruiser Parts & Specialties, Valley Hybrids, and my local Toyota dealership
Conclusion
Quite the scope of work and parts list! Each part was carefully selected for function, reliability, and cost. And with a build of this scope, everything must work together to achieve the desired result, certainly no easy task. Stay tuned for more build specifics coming shortly in Project Evergreen Part 2.
A full list of suppliers and parts is available here.
#evergrn97 #projectevergreen #fzj80 #fzj80on37s #slinkylongarmsuspension etc…..